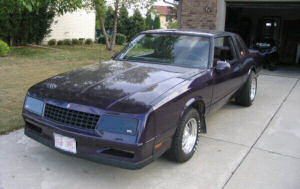 Chad's Monte Carlo SS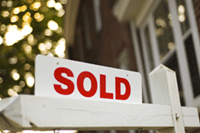 Updated 09/19/2006: Chad has sold the Monte, but has bought a Corvette!
Recent Events:
Background Info:
1986 Chevrolet Monte Carlo SS
5.0 liter ohv V-8 (305cid): 180bhp @ 4800rpm and 225lb-ft torque @ 3200rpm stock
3387 pounds curb weight
TH200-4R four speed automatic transmission (3.73:1 gears), RWD
P215/65HR-15 tires
The current estimated output is 275bhp (SAE net) @ 4400rpm, and 320lb-ft of torque @ 3800rpm. The DesktopDyno quotes about 350bhp (SAE gross) @ 4500rpm, the typical conversion factor from gross to net is about 75-80%, giving us 263-280bhp SAE net!
Modifications:
Stock 305 thrown out, and a 400cid small-block V-8 installed. The motor was rebuilt and overbored to about 406cid. If you're interested, there is a projected dyno sheet for the engine from DesktopDyno in PDF form.
Lots of engine accessory bits swapped out: Holley 4160 750 cfm 4-bbl carburetor, Sportsman II intake and heads, CompCams XE268H camshaft, Hooker Headers to dual exhaust DynoMax Super Turbos, CS 140 amp alternator, March Performance Billet Pulleys.
After you've done the engine, why not throw out the tranny too? It was replaced with a Turbo Hydramatic 350 three speed auto to handle the extra power and torque.
And while you're at it, those dinky tires gotta go. Replaced with P255/50VR-16 tires on 10" wide rims (in the rear.)
A monster Howe 2" aluminum radiator replaces the original, with electric fans instead of crank-driven.
Hurst ratchet shifter was installed complete with, ummm, custom console modifications.
Intellitronix digital dashboard. Ask Chad about the fuel gauge.
Spring expanders front and rear to stiffen up the suspension.
Planned modifications for the near future are:
Install a manual to replace the TH350.
A limited-slip diff would be nice...
Pictures:
| | | | |
| --- | --- | --- | --- |
| Front | Left side | Left rear | Rear |
| Engine, front right | Engine, front left | Engine, front | Engine, front top |
| Cleaned-up, right | Cleaned up, left | Cleaned up, front | |
Videos: