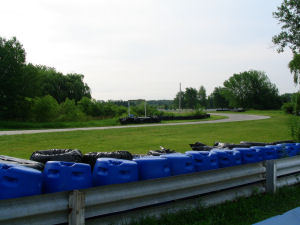 Blackhawk Farms 2008
This year RRC members attended a total of three PDEs put on by Badger Bimmers at Blackhawk Farms Raceway in South Beloit, IL. On May 23rd Damian and Rick went to Blackhawk, then on June 27th Chad, Damian, and Rick attended, and finally Damian went back to BHF on July 28th.
Blackhawk Farms Raceway was created from (surprise!) an old farm. The silo still stands at turn 7, and you can see from the picture that it's surrounded by lush forests well-stocked by predatory mosquitos. If you stay near the paddock areas you're normally okay -- but the farther out you get the more blood you will donate.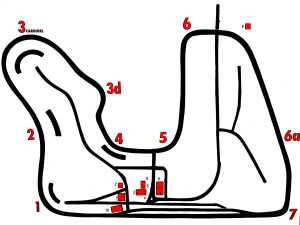 However, the track itself is without reproach. Although it and Gingerman are of similar size, Gingerman is a much tighter and abrupt track, where Blackhawk has a very natural flow and rewards the driver that gets "in the zone" and follows the wave. We were all captivated by BHF, and very much enjoyed every minute on the track... which is why we went to the track up to three times this year!
Blackhawk Farms is in South Beloit, IL which is just over the Wisconsin-Illinois border. It is farther away than Road America, but much closer than Gingerman. Given it's relative proximity and oh-so-enjoyable track flow, we recommend that everyone who has any chance to make the trip down and enjoy it.
You can check out the following goodies: