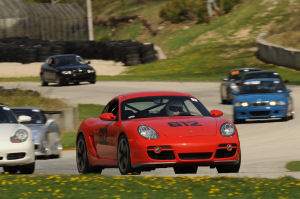 Road America 2009 (Porsche Club of America)
For the first event of 2009 Damian and Rick attended the Porsche Club of America (PCA)-organized Road America event on May 9th. Due to the economy this year, PCA and BMWCCA elected to combine resources and create a joint schedule. PCA will run the May 5th Road America (a two-day event), BMWCCA and PCA will run the June/July/August Blackhawk Farm Raceway one day events, and BMWCCA will run the October Road America (another two-day). So, for this PCA event there were tons of Porsches, tons of BMWs, and tons of track time - 2.5 hours per day! Five 30-minute sessions each day gave the most track time we've ever experienced on the always-beautiful Road Ameria.
The first day was outstanding: nice, sunny weather, good track conditions and competitors. Damian and Rick were both trying out their newly-adjustable suspensions, and Damian was also running new tires (Dunlop Direzza Star-specs.) All in all, the first day went well with the new suspensions. The lower center of gravity increased cornering speeds and sharpened steering response, and the adjustable damping means that Damian and Rick can pick how quick they want their cars to settle based on the track conditions -- a very nice bonus. Later in the day on Saturday Rick's front suspension developed an alarming clunk, which was later diagnosed by Big Bear Tire as a loose anti-roll-bar end link. The new suspensions have placed more stress on each car, and of course the Damian's Ultimate Driving Machine went on unaffected, while Rick later ended up simply cranking down the end link bolts with a monster cheater bar and calling it a day!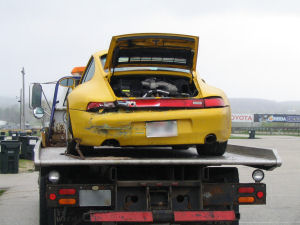 Sunday, on the other hand, was not ideal. It rained all day which put a (literal and figurative) damper on the driving, as you can see from the Porsche 911 on the lower-right. A number of Porsche drivers spun off, including a Porsche Carrera GT - thankfully without damage! Given the clunking suspension, Rick elected to pass on the day's driving and threw in some camera (video) work while Damian put in some wet laps. :)
Even so, the event was successful overall. 2.5 hours of dry track time on the premier road course in North America is always an awesome thing, and we're ready for another great season!
You can check out the following goodies: