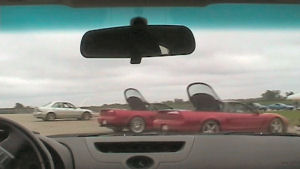 Gingerman 2009
This year, Chad, Damian, and Rick attended a Performance Driving Event put on by CGI Motorsports at Gingerman Raceway in South Haven, MI. Due to scheduling this would be the only time this year all three were on the track together, so we made the most of it!
Unfortunately, making the most of it meant driving several sessions in the wet, as the first half of the day included lots and lots of rain. Eventually after lunch the track did dry out, allowing us to get a few sessions in at full speed. This was also the first time at Gingerman since Damian and Rick changed out their suspensions, and (as it did at Blackhawk) the lowered and adjustable suspensions allowed them to handle Gingerman's twisties much better!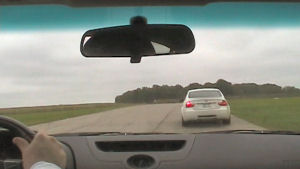 A side note on the weather: in previous years, we didn't even have one session affected by rain. This year, we had four events that had some impact: half of the PCA Road America, the entire August BFR, half of Gingerman, and half of the first day at the BMWCCA Road America event. We would like to know what rain god we angered, and how we're supposed to do penance!
Still, a day at Gingerman is fun. As always you get lots of track time (over two hours) and a relaxed atmosphere. It's also the most technical track we've driven at, so you want a challenge come out to Michigan with us next time!
You can check out the following goodies: