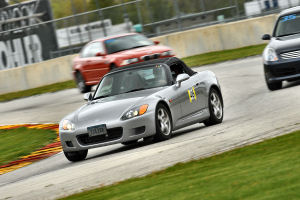 Road America 2010 (MFBA and PCA)
For the first event of 2010 Chad, Damian and Rick attended the Midwest F-Body Association (MFBA)-organized Road America event on April 17th. Damian wanted a chance to get used to his new-to-him 2005 BMW M3; while Rick and Chad tagged along to watch, take some videos, and heckle other drivers. Then, on May 8th Damian and Rick attended the Porsche Club of America (PCA)-organized Road America event. This time, both of them drove. :) In both events they elected to go to only one day, given the other scheduled events and expenses. Brake cost this year, given the speeds we're carrying, is crazy!
The F-Body event had very nice weather - clear and sunny, with reasonable temperatures (especially for mid-April in Wisconsin.) Damian spent the day slowly becoming accustomed to how the M3 handled (more understeer than his 330), accelerated (WAAAAAY faster!), and braked (like hel... I mean, not as well.) The main problem were the brakes and speed Damian was carrying: they were depositing (vibrating), felt soft and perhaps like they were fading. When you're coming into Turn 5 at 130mph or so, and you're worried about your brakes, it takes the edge off your driving! Thankfully, no M3s were hurt in the filming of this video.
For the May PCA event Damian and Rick were originally scheduled to drive on Friday, which rained all day. Thankfully the guys at PCA allowed them to switch over to Saturday, which turned out to be a pretty reasonable day. While clouds and weather threatened, there were plenty of dry sessions and they were able to get some speed on. Damian made changes to his brake fluid, pads, and brake bed-in procedure, while Rick changed fluid and pads as well. The new brake pads took some adjustment for both, but in the end were reliable and handled the massive braking into turn 1, 5, and 12 without failures. Cheap, however, they are not...
Another new piece of equipment Rick was trying out was his new camera setup. He ran a new digital, solid-state camera, with external microhone and wide-angle lens at the same time as the same camera from last year. As you will see, there were some technical difficulties that were ironed out later. However, in the end the event was successful: fun driving, over two hours of dry track time on the premier road course in North America, and none of their sheet metal got bent! (See above right for bent F-body metal.)
You can check out the following goodies: