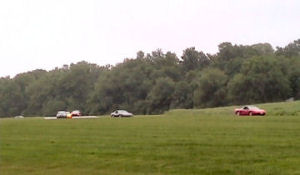 Gingerman 2007
On Monday, June 4th Chad, Damian, and Rick attended a Performance Driving Event put on by CGI Motorsports at Gingerman Raceway in South Haven, MI.
For $175 we drove for seven 20+ minute sessions, getting over two hours of track time in one day! This is an excellent opportunity, since typical PDEs give you an hour of track time for the same money. For the entire day each student had one of their experienced instructors in the car instructing them on the best technique to use while driving on the track.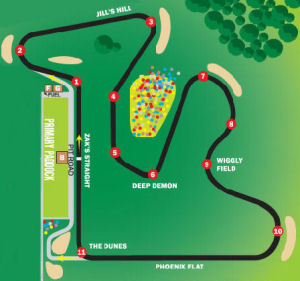 And what a track it is! Where Road America is four miles long, wide, fast, and smooth, Gingerman is two miles long, tight, and emphasizes cornering precision over everything else. Gingerman is so tight, in fact, that most of us used up at least 40% of our brake pads, and 20-30% of our tires!
This event we had Chad's mom along to record the proceedings. From those video clips we we have assembled a video for the Gingerman 2007 DVD. If you would like a copy of the DVD please contact us and we'll get one to you. The main video is also online in a lower quality format (see goodies, below.)
We all had a ton of fun, and learned even more, at Gingerman. CGI Motorsports gave us much more focused, intensive instruction than we received at Road America, and as the day went along we all got faster as we got more confident in our cars and abilities. If you want to experience the road-course equivalent of an autocross course, Gingerman is for you!
You can check out the following goodies: